This is my entry for the Halloween Konad/Nail Art contest hosted by Sasse.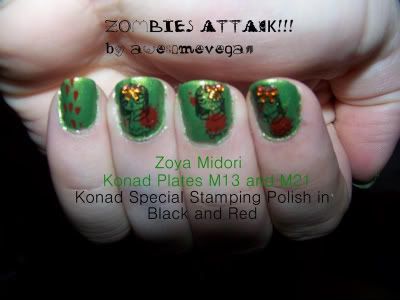 I applied 2-3 coats of Zoya Midori last night and did the Konad today. I stamped the blood splatters and drips first, then the Zombies. Does anyone else have trouble getting the Zombies to transfer to the stamper? I got the blood great! But the Zombies were a real pain!!! :-/ I have been wanting to use those Zombie Girls since I got the Konad! I recommend Zombie Girl eyeshadow by glittersniffer (on etsy) with this manicure. :)
The link to the contest is
here
.
There is about as week left I think. :) Hope you like it. Please comment and follow me!