ALL PICS SHOULD BE CLICK TO ENLARGE. Links to the museums are included!
Yesterday Brandon (my bf) and I went to Salem, MA.
It was a lot of fun! When we got to Salem we parked and went to the visitor center to pick up a map and stuff. Then we went to one of our favorite places for lunch, Cafe Kushco. It is this little cafe on Washington Street that has soup, sandwiches and soft serve both dairy versions and vegan! I ordered Meditarian Grilled Eggplant Soup and Brandon ordered the Three Bean Chilli. The restaurant is not entirely vegetarian but the vegetarian soups are labeled on the daily selections sign and it lists which ones have dairy and eggs and such. The corn chowder sounds like it would be vegetarian but it is NOT it has anchovies in it. Just a warning if you are there and are veg or with a veg! Also if you are vegan or allergic to dairy ask for no bread because they put butter and melted cheese on the bread. I forgot that they gave bread with the soup. I gave mine to Brandon because he is vegetarian but not vegan and he still eats dairy. After finishing my soup I ordered a "frozen tofu" (vegan soft serve) and selected peanut butter for the stir in. It was DELICIOUS!!! My soup was great and so was Brandon's btw. I stole a bite of course (since his soup was vegan as well)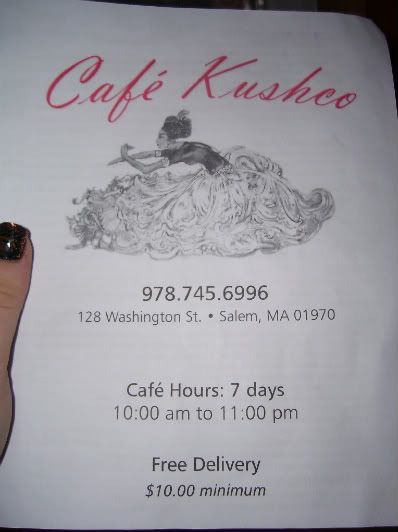 My handsome bf, Brandon!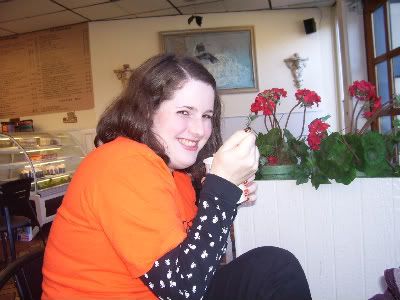 Next we made our way to the
Witch History Museum
. We got the
combination ticket
to this museum and the Witch Dungeon Museum and the Pirate Museum. You save 5 dollars per person. :) They tell you a bit of history about the witch hysteria and bring you through exibits with sound and human-like figures which are somewhat realistic. It was very informative and I recommend it if you haven't been to Salem or are bringing a group for an educational experience. They also have a gift shop.
We made our way to the
Witch Dungeon Museum
next. This one was eerier and spookier than the last one. You watch an actors rendition of part of a witch trial and then are lead down below for a tour of a replica of the dungeons. There was a beam there from the original dungeons and it is said to be good luck for women to touch it so of course I did. Here is a picture of it.
Then we checked out shops for a while and hurried to catch the last tour for the
New England Pirate Museum
. Strangely this was Brandon's favorite although I am not too surprised! He loves pirates. It was entertaining and more lighthearted than the witch related museums.
I would recommend the combo ticket to these 3 if you have never been to any of them. If you are in the mood for something a bit different check out the Pirate Museum! :)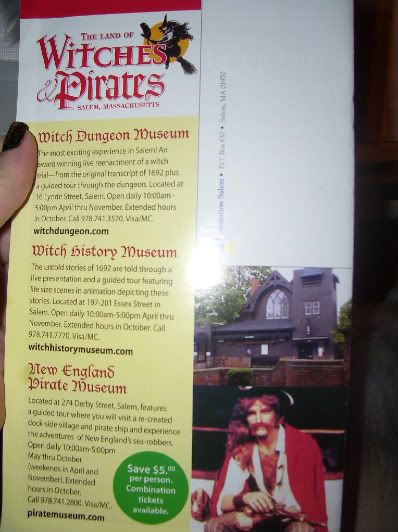 After the museums we went to dinner at Thai Palace (located in the Museum Place Mall) We went there last year as well and enjoyed it. This time we both ordered the same thing! It was funny. We got the Sweet and Sour veggies with Tofu. Brandon ordered desert of Orange Pineapple Ice Cream. I didn't try it since it was dairy but he said my peanut butter tofu ice cream was better! LOL
Here are some more pictures!
The fall colors on the 2 hour drive there!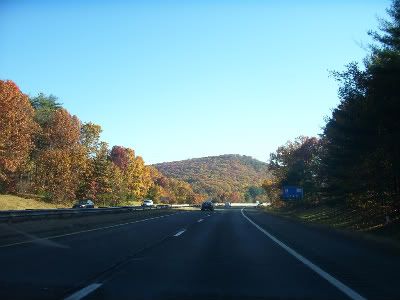 My mani! Seen pictured with this spooky eye bracelet I got in Salem!
I used basecoat, 2 coats of Zoya Sienna. I applied 1 coat of No Miss Top Coat. Let it DRY! Then I stamped designs from m13 and m28 and used decals by Fingrs Edge and then 2 thin coats of Color Club Abracadabra (from the Master of Disguise mini kit) on the tips. I applied 1 coat of Konad topcoat, placed the rhinestone eye on Mr. Pirate and then did KTC on the other nails. I applied a SECOND layer of Konad top coat on all fingeres after they had completely dried. I applied a THIRD layer of Konad topcoat in the morning only to make the glitter feel smoother. On my thumb I applied 2 coats of Color Club Dark Romance (from the Dark Romance Mini Kit - came in my Master of Disguise kit instead of the correct black) Then I stamped the pumpkin from m13 and applied the glitter (CC - Abracadabra) all around the pumpkin and on tips. (Three total layers of top coat on the thumb too.)
Blade wanted some love! (This of course was when I was trying to take mani pics and pics of my stuff!)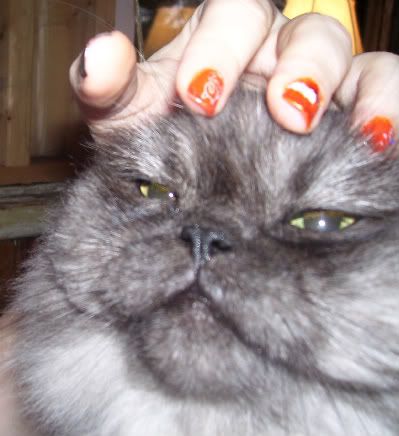 My necklace and earring set found for a DOLLAR in the sale bins at The Pickle Pot (jewelry/beading store in Pickering Wharf in Salem, MA) Also a nice shot of my thumbnail!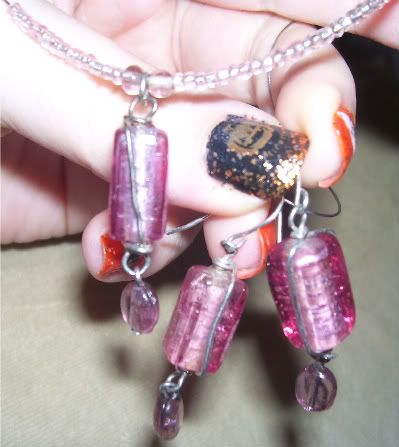 Some fruit and veggie wine charms from The Pickle Pot sale bins! I am going to make jewelry with them!!!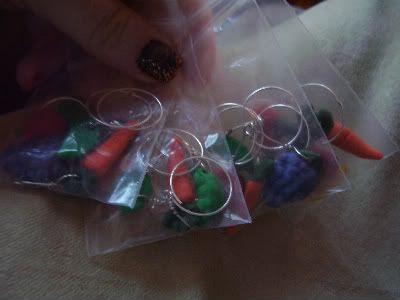 My new Salem shirt!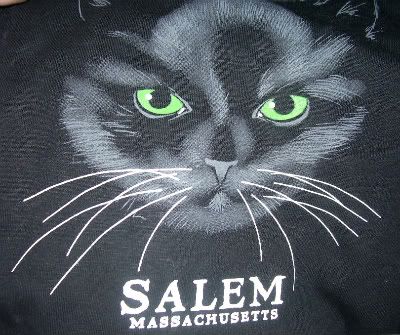 Blade is investigating my pirate pen! (Really he is just rubbing himself on it like he does with EVERYTHING!)
A picture from our trip last year! This is outside of the
Salem Witch Museum
which I HIGHLY recommend seeing. It has a presentation about witch history and hysteria with lighted scenes and a tour witchcraft through history to today. It even includes Hollywood representations of witches.
I will post more about Wicca, witches and the history of Halloween on October 31st. I hope you enjoyed this post and I apoligize if it was too long and picture heavy but I feel like you are my girlfriends and I wanted to share it all with you! :)
For more pics go to
here
.
Thanks for reading! Please Comment, Follow, Subscribe and Share!
If you have me on your blogroll please let me know! Thank you!
(Bare with me if there are any spelling errors and code errors with the pictures. I am checking them and will fix errors ASAP!)