I did my nails yesterday and thought I would share!
I used No Miss Base Coat.
The base color is Akyra by Zoya. I would describe it as a deep teal (blue/green) with a slight silver/blue shimmer. This color seemed watery and thin compared to my other Zoyas. I applied one thin coat then one thicker coat.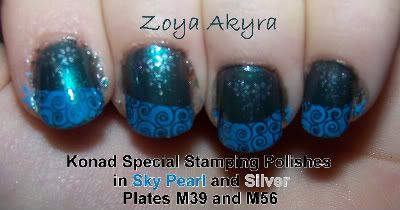 I applied No Miss Top Coat and let it dry a while before stamping. I stamped the tips with the swirly pattern on french plate
M56
with Konad Special Stamping Polish in Sky Pearl. I then stamped the triangle arrangement of flowers from plate
M39
with Konad Special Stamping Polish in Silver.
I feel that the Silver is very subtle compared to other Konad polishes. I realize they are not perfect and I am not that great with lining things up and my frenches are wonky but they were a lot of fun to do! You could use many different patterns for a similar effect. Please excuse the messy edges. I forgot to clean them up before taking pictures! :( Hope you can forgive me? <3 I need lots of practice with my french tips so expect to see many more soon!
Thanks for reading! Please comment, follow, subscribe and share!!!