There is a little story to these nails and why I bought the polish used to do them.
The polish is Zoya's Delilah. It is a deep red with lots of glitter. It is 2 coats. The Konad is done with Konad Special Stamping Polish in White. I used image plates M43 and M73. I chose these designs because it is my 23 month anniversary of my first date with my boyfriend, Brandon. I think they look very romantic. All photos can be clicked to enlarge. :)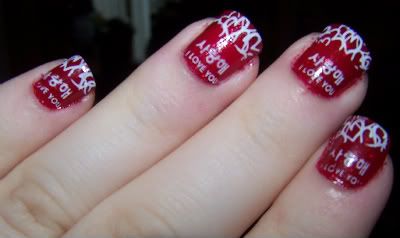 I added a little detail with my thumbs to fill the corner. I used Art Club by Color Club nail art paint in Neon Pink.
And the reason I bought this polish:
Her name is Delilah, named after a little song... you may have heard it :)
This song was playing in my head when I was holding her and my mom said I could name her. She is sweet and pretty and I think the name suits her.
DISCLAIMER: I do not own the song "Hey There Delilah" by The Plain White T's or know any of them personally. The video is linked directly from their record label's Youtube account. Thank you :)