This NOTD was from last week. I love this color so much and the picture doesn't even begin to do it justice. It is a medium to dark gray holo with many colors in it. I think the most prominent holo sparkles are dark green, and orange/brown/gold. It is incredible and if you can find it at a local beauty store or see it online snatch one up. I thought it would look strange against my skintone but I love it! It is one of my favorites now! Here is the picture:
Click to enlarge!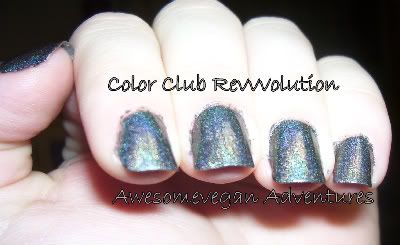 I have counted my polishes!!! I now have 50 polishes not including basecoat, topcoat, nail art and Konad Stamping polishes. If you would like to see looks with any of them let me know. I will be posting a list of my collection soon. I will try to organize it by color or put a short description next to each. :) In the meantime if you have any requests for themes or colors leave them in a comment. I owe
Thriszha
a Asian themed look and I need to do a nautical before the end of the month for that contest, if I can remember who it was for! I do promise to get to the requests that are left though.
I am working on my Salem blog and will post that as soon as it is finished.