Hi everyone! I have for you 2 contest manicures and a cat eye look.
ALL PICTURES SHOULD BE CLICK TO ENLARGE!
The first manicure is for Nail Juice's Nautical Nail Art Contest.
I used a sheer blue, medium blue and darker blue. I used the sheer blue N.Y.C. Scandalas Blue Green Glitter over the whole nail. Then I layered
Zoya - Jo
over 2 thirds of my nail and used
No Miss Biscayne Blue
on the tips. I applied No Miss Top Coat then stamped across the line where the sheer and medium blue met using Konad Special polish in white. I used image plate m24. Then I used Art Club Black nail art paint (and toothpics when I got annoyed with the brush) to draw the anchor and wheel. :) I finished with Konad Top Coat. I hope you like it!
The next manicure is for Nail Art World's Winter Manicure Contest.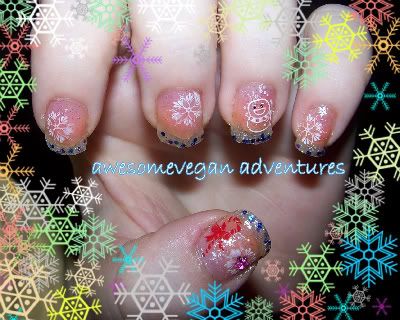 For this manicure I used 2 coats of N.Y.C. White Lights Glitter. Then 1 coat of No Miss Top Coat. Then I stamped with Konad Silver (very subtle) the flower/star/snow pattern on plate m5 on all my nails. I randomly positioned them. :)
Then I stamped the white snowflake like pattern from plate m20 on my index, middle and pinky (I did the thumb after the candy cane.) I alternated the placement of the snowflake. I then stamped the snowman on the ring finger and the red candy cane on my thumb. I followed with the snowflake on my thumb. Next I went over each tip with N.Y.C. Starry Silver Glitter fishing out the large pieces of both pink and blue (repeat). Next I did the black snowman eyes with Art Club Nail Art Paint. Finally I applied Konad Top Coat and applied a pink flower rhinestone in the center of the thumb snowflakes. Once dry I applied a 2nd layer of topcoat on my thumb. :) I hope you like this one too!
My manicures are getting more complicated but I am so proud of myself! :)
Now for the cat's eye!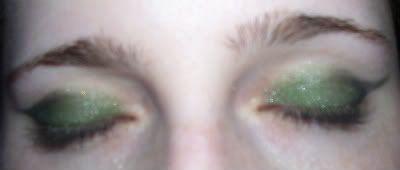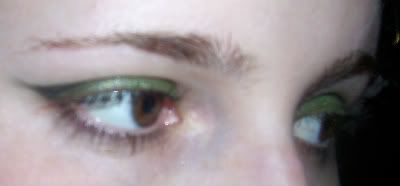 For this look I used
E.L.F.
Mineral Eyeshadow primer. Next I applied
Everyday Minerals - Mistletoe
to my lid and into the crease. Next I used E.L.F. Black liner (from my mini makeup collection I wouldn't nessesarily recommend this one) to line below my lower lashes and extended the line up at an angle pointed toward the ends of my brows as a guide. Next using the E.L.F. Studio Line Small Precision Brush (LOVE) and Back To The Earth Cosmetics - Tree Spirit (dark green) I lined under the lower lashes (over the pencil liner), created a defined outer V and continued a bit into my crease. I only blended where the 2 greens met NOT THE EDGES. I wanted to leave the edges sharp and fierce like an intent cat stare! I used a bit more Tree Spirit and carefully drug the precision brush up at an angle towards my brow to create the cat eye style wing. I know it is a bit over the top but I love it! I finished with
Glittersniffer - Carnivore
(ironically my fave highlight color) under the brow. It looks scary and pale green in the package but it is awesome. I got it as a free sample and I love it! Then of course my favorite mascara (
EccoBella
Black.) Please excuse my insanely messy brows!!!
I have included links most of the retailers sites. E.L.F. and Eccobella are also available in some stores in the U.S. I don't know about outside of the U.S. Everyday Minerals is available internationally from their site.
Back to the Earth doesn't appear to be on Etsy anymore. If I find it I will update with a link.
I hope you enjoyed this post! Leave comments, questions and requests! Please follow, subscribe and share!